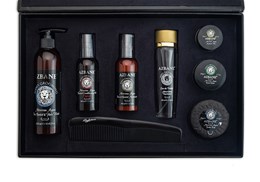 AZBANE, MOROCCAN ARGAN, GIFT SET
€
175
,
00
The ultimate gift set for the ultimate bearded gentleman.
The Azbane, Moroccan Argan, Gift Set contains all the essentials you would ever need to keep your beard in perfect condition.
The gift set is presented in a handmade, black leather case.
This makes a luxurious present or a great kit to keep all your beard care products in one place.
The Azbane, Moroccan Argan, Gift Set includes:
1 X Moroccan Argan, Face and Beard Wash - 250ml
1 X Moroccan Argan, Beard and Face Moisturiser - 100ml
1 X Moroccan Argan, Conditioning Beard Oil - 100ml
1 X Eau de Toilette spray - 100ml
1 X Beard Comb
1 X Moroccan Argan, Moustache Wax - 20g
1 X Moroccan Argan, Beard Balm - 50g
1 X Moroccan Argan, Gentle Soap Bar - 60g