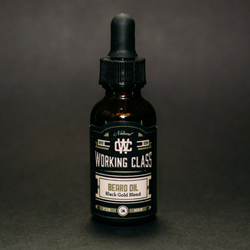 Working Class Black Gold Blend Beard Oil
€
21
,
00
Working Class Black Gold Blend Beard Oil is strengthen your hair a restore its healthy natural shine. Contains a blend of natural extracts,pumpkin seed oil essential oils and beeswax perfect for moisturising your skin and hair. Get rid of the unpleasant itchy feeling caused by harsh chemicals present in some cosmetics with this effective natural essence suitable for daily use. No.1 choice for soft skin and easy hair styling.
Benefits
The nourishing effect of the main ingredients - coconut oil, pumpkin seed oil and sea kelp - makes this oil ra must have for anyone dealing with extremely dry skin.. Rich in vitamins E, K, A, minerals zinc,fatty acids, protein and iron it can do wonders in terms of keeping it moisturized. It can quickly help you get rid off dandruff and itchiness and restore the elasticity of the skin. Also, the oil supports the growth of the hair so your beard will alway have a nice, full shape.Does not contain parabens, artificials fragrances, colours or conservative substances. Handmade in USA.
Ingredients
Coconut Oil, Sea Kelp Extract,Pumpkin Seed Oil
iets voor jou?